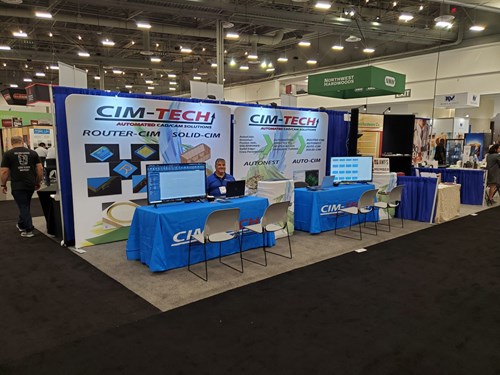 Whatever you're selling, the most critical part of managing a business is LISTENING to your customers. At CIM-TECH, we know tradeshows are a great way to reach our customer base. This year it seemed more important than ever. We were excited to exhibit at the AWFS Fair in Las Vegas on July 20-23, 2021 which marked the return to some normalcy in our industry. This is the first time in over a year that we've been able to connect with not only our existing customers and machine tool partners, but to meet new customers as well. In true tradition, CIM-TECH's booth provided live demonstrations of the brand new features added to our industry-leading Router-CIM Automation Suite software that appealed to every customer's needs.
CIM-TECH has set the industry standard for producing high quality products with solid reliable performance while always maintaining an unrivaled level of customer service. Based on significant field research, testing and vital feedback from their partners, CIM-TECH is launching Router-CIM Automation Suite 2022 and Solid-CIM 2022.
The Router-CIM 2022 software was developed with several new upgrades including compatibility with AutoCAD 2022 and the availability of development of new 5-axis machining cycles. The new software supports up to 2,000 unique parts per job (twice as many as previous versions), supports thousands of sheets for all materials and the hardware locks now support full remote desktop, among many more new features.  Most importantly, Router-CIM 2022 jobs run 33% faster than previous versions.
This flagship product was developed by building on AutoCAD, the world's most popular CAD system. With Router-CIM, CIM-TECH has created a manufacturing solution for high-speed CNC equipment. Close ties to major CNC router manufacturers have given us a hands-on advantage of perfecting our software so that our customers experience the fastest cycle times and the best yields. We focus on custom-designed, automated manufacturing solutions to meet the needs of each individual customer.
Solid-CIM 3D 2022 is the ultimate solution for programming or nesting 3D solid parts and assemblies from AutoCAD, Autodesk Inventor, SOLIDWORKS, and many other popular solid modeling products. Automatic Feature Recognition (AFR) works directly on 3D solids and 3D solid assemblies to lay parts flat and identify part name, material, and features with cut depths. Solid-CIM 3D features full six-sided feature recognition, perfect for parts that have horizontal and back side work.
Solid-CIM has fully integrated support for edge-banding with pre-mill allowance, control over top side, and grain direction. With one click, the program creates layered DWG or DXF files with thickness from each part in the assembly. This single step saves you many tedious hours of work compared to traditional methods of working from 3D solids or 3D assemblies. Solid-CIM 3D generates a cut list that contains part name, material, quantity, panel dimensions, edge banding, label info, and much more. Router-CIM Automation Suite imports this cut list and cuts and optionally nests the parts with simple right click and cut.
Any way you cut it, we save you time.
Established in 1986, the founders of CIM-TECH realized that a CNC machine is only as good as your ability to program it. Computer Integrated Manufacturing (CIM) was needed to bridge the gap between Computer Aided Design (CAD) and Computer Aided Manufacturing (CAM). CIM provides for a seamless solution with a common interface for design and manufacturing. From this basic concept a new company was created, CIM-TECH.